apr 30
Zygmuntowicz delivers
This post originally appeared on the 'fiddlefish.com' blog. It's here for archival purposes only.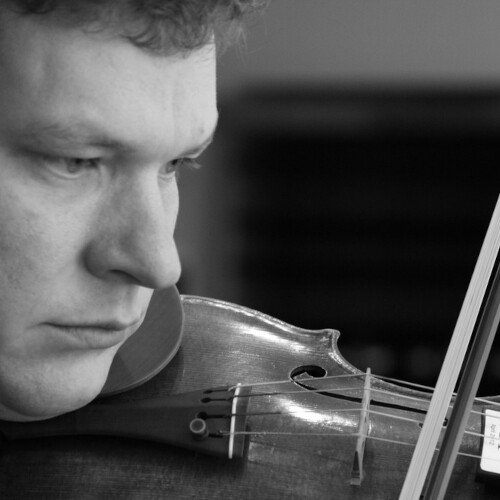 I had a great time over at Tarisio auction house recently. I wanted to measure-up Samuel Zygmuntowicz' Plowden copy juxtaposed to my Jan Spidlen one. It was easy to instantly appreciate the incredible violin which Sam had made (for violinist Ruggiero Ricci). And my intention was not to have a Coke vs. Pepsi challenge between Sam and Jan but, rather, appreciate both modern maker's approach to del Gesu's Plowden. Sam wins points for making his attempt look antiqued on top of sounding great, I must say.
With regards to antiquing, I have moved from camp A to camp B in the last couple of years. It's neat to antique, but I find something dis-ingenious about quoting the originals to the finest decimal place. Yes, antiquing is currently very much en-vogue; when I pow-wow'd with Jeff Phillips (like Sam, also a gold winner at VSA) about this matter last year, the craft of antiquing was one of the very intrigues of violin making which drew him in. I suppose violins which look like stop-signs are one gangly extreme, whilst quoting originals is the other.
But I digress. Both the Zyg 'cello and violin were fantastic! And the new owners of them certainly have voted with their wallets on just how special they truly are! The 'cello hammer price was 70K USD and the violin 90. Ninety thousand dollars for a violin made in Brooklyn, NY less than 20 years ago. Yup, times are a-changing. But this is what the violin trade needs (in my humble opinion). We need to bring discipline to the antiques market on the backs of modern luthiers. Ricci himself has spoken at length regarding the violin, the violinist, and the modern luthier. The new Stradivaris who walk amongst us are a blessing: thank you Jan, Sam, Curtin, Jeff, Robin — just to name a few.
Photo taken by Grace O'Connell.