may 26
Some time alone with del Gesu
This post originally appeared on the 'fiddlefish.com' blog. It's here for archival purposes only.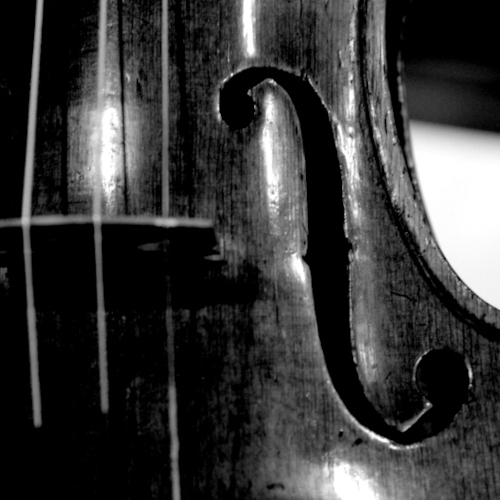 Tarisio auction house was incredibly generous recently and gave me some alone time with something quite special: the newly discovered "Folinari" Guarneri del Gesu violin of 1725. This was the second time playing a del Gesu and it took me a while to digest the incredibleness of the whole experience. Several days, in fact. I felt pretty lucky and the violin was very much as enchanting as I expected it would be. What contributed to its mystique was the impossible story bundled with it. In the 1990s, the estate of a third-rate winery in Italy discovered that the violin which had been passed on down through the centuries was non other than a bone fide early-period del Gesu. Though the label is not original, there are scribbles inside attesting to its date and maker. It must have been a labor of love for the first appraiser to validate its authenticity; most fine violins have prolific provenances.
Guarneri del Gesu was, and I say still is, the violinist's (ultimate) maker. Even more than Stradivari (who could be anointed perhaps as the maker's maker), del Gesu violins have always appealed to master players with few exceptions. In fact, all my violin heroes played on del Gesus for most of their careers (Kreisler, Paganini, Kogan, Heifetz, Ysaye). Back in the golden era of violin-making in Cremona Italy, living down the street from renown maker Antonio Stradivari was Guarneri del Gesu. He was the go-to maker if you weren't some Earl, Duke or Prince. If you were a violinist, you would go to him. And while Strads are incredible violins, and he an incredible master, there is something appealing to me about del Gesu. Strad was an expert craftsman, experimenter, scientist — no doubt — but he seemed to play it safe for the majority of his prolific career. While he cozied-up with his Grand pattern during his "golden period" from around 1700 until the year he died in 1737, del Gesu was thinking out of the box. del Gesu was on a mission to explore. Changing his designs radically, both as he progressed through the decades, and even between single instruments in fact, he never hung up his hat and phoned it in. The dimensions of his violins swing drastically. And probably most notably, he threw out the book on sound-holes (or f-holes). While the f-holes of this early 1725 violin are very "straddy" (round, supple, feminine, divine; a design derived from the father of the violin: Andrea Amati), they resemble nothing like his later design. All in all, he was an innovator and hacker — and I can really get behind that.
The 1725 del Gesu played remarkably well (being in such an impeccable state of preservation probably didn't hurt). The D string was most remarkable. It served as the base from which the higher A and E strings derived their timbre. The G string was a bit of a mystery to me. There was something unique about it but it was hard to pinpoint what it was. What really made my day was the fiddle's response when I cranked up the volume. Yes, violin is a cantilena instrument, but the modern player should be able to go as huge or as quiet as he/she wants, without any loss of purity of sound. I am a big guy and I can get a lot of sound when I want to, and this del Gesu just could not be overwhelmed. The more I asked of it, the more it gave back and there seemed to be no ceiling. I am assuming this is what Paganini loved about his "Canon" del Gesu, which he aptly nicknamed "The Law." Violinist Ruggiero Ricci, one of the only Americans to ever have played the "Cannon," remarked that it was by far the largest thing he had every seen (which goes back to my earlier points regarding del Gesu: the wild experimenter).
In sum, it was one of those best-days-ever. It is such a treat to live in NYC where opportunities like this are common-place. And I have to say that the folks down at Tarisio — Ethan, Jason, Carlos, et al — are the absolute nicest people in the biz. The auction for the violin will be held in London and it's so very difficult to estimate what something so priceless could fetch. Guarneri del Gesus are scarce: there are only 150~ violins in known existence (no 'celli nor viol are known to exist at all) to Stradivari's some 600. And its condition is another factor which could send the hammer price into the stratosphere. In the past, I have made some decent educated guesses (e.g. I was within a million USD and change for the Lady Blunt Strad hammer price — not bad!) so I will make a spirited wager and say that the "Folinari" Guarneri del Gesu violin of 1725 will go for 12 million USD.
Photo taken by Grace O'Connell.