jan 4
An afternoon at the Met
This post originally appeared on the 'fiddlefish.com' blog. It's here for archival purposes only.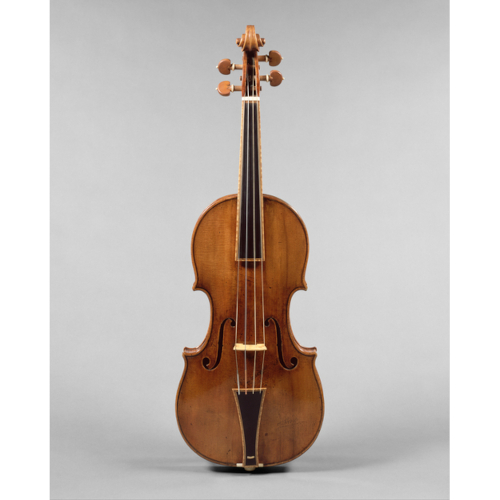 Although it bums me out to see incarcerated Strads doing time in safe-boxes, my studio-mate from graduate school, Toma, and I headed to the New York Metropolitan Museum of Art over the new year's weekend. I had forgotten that the Met had an instrument exhibit. I was excited to switch gears, see some fine violins and get away from partying for a while. I think I am somewhat able to identify a Strad at this point. It's a subtle feeling — for sure — but for me, an inner voice mumbles: "There you are, you little scallywag…" The Met had several. They had two Brescian or "long-bodied" Strads: The "Gould" (above) and the "Francesca." The baroque set-up on the first was nifty, but a modern setup (the higher bridge, evolved sound-post/bass-bar, high-tensioned strings, arched fingerboard, etc.) is now boilerplate and necessary. In a way, these two Strads resembled retarded twin brothers — with their slightly long-bodies/large-foreheads seeming so exaggerated compared to Strad's golden-period fiddles. Interestingly, the growth lines on the top plates were extremely condensed. In the center, each individual line was indistinguishable from the next. It seemed to indicate that Strad's spruce-wood tops were consistent throughout, at least, two of his three periods.
A golden-period Strad, the 1711 "Antonius," along with the oldest and finest violin I have ever seen, a 1560 Andrea Amati, sat in a large case in the center of the room. The Amati had a small caption that suggested that this violin could be the oldest one in existence; which is highly possible since Andrea invented the violin. It had the most exquisite sound-holes with rectangular mensur marks resembling a seductive smile. The smaller Nicolo Amati next to him was dark with stout ribs and a perfect scroll. The Strad had a square and very imperfect scroll, in comparison. I was reminded of something from my past that I had forgotten as I stood there thinking: a editor from Mastercard's "priceless" publications had interviewed me several years ago about why Strads blow all competition out of the water. And as I looked at this wonky scroll, most probably an original, and the a-symmetric angles in the body, I regretted what I had reported back then. Often, the "best" as we know it never truly is.
Alas, the "best" was a Strad on this day. There, in the middle of the room was a Stradivarius cello from 1711. I almost cried. Along with being easier to see because they are large (go figure!), a cello is also a very refreshing sight for this violinist. The caption said that this extremely rare instrument is one of 20 of the smaller full-sized variety, among a total of only 60 Strad celli left in existence. Words cannot describe this instrument. Any player should re-visit the Met the next time they can.